Innovation Illustrated is series of XPLANATiONS developed with the team at Innovation Leader with the MIT Industrial Liason Program and the MIT Startup Exchange.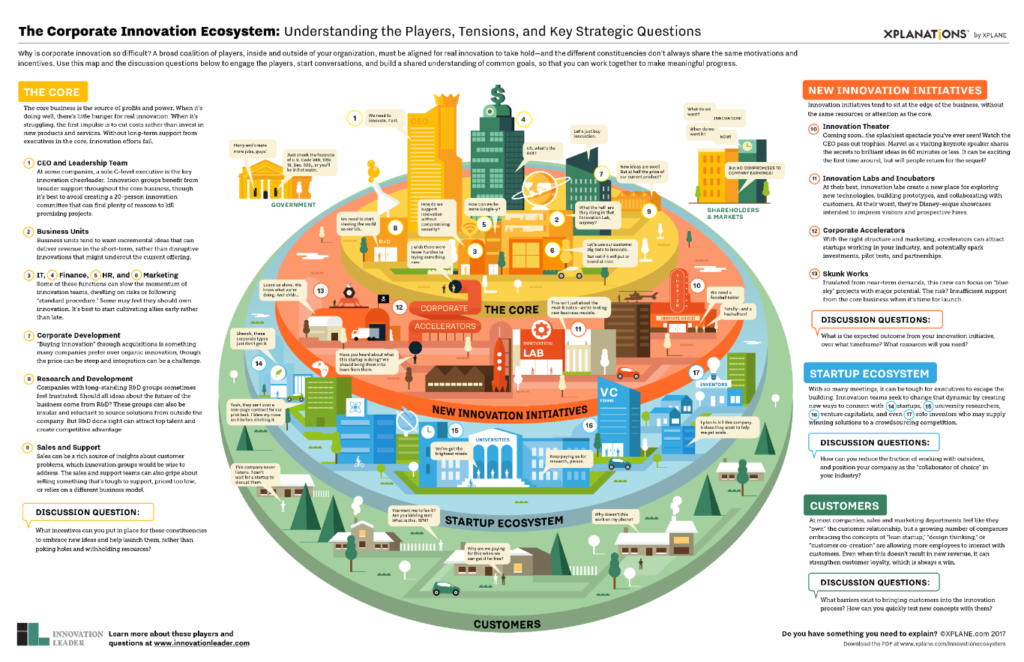 The Corporate Innovation Ecosystem is the first release in the series. It visualizes and explains the players, tensions, and key strategic questions in corporate innovation. It is designed to create shared understanding and includes discussion questions workshops to facilitate conversations in workshops and events. Download the PDF file or buy the quality poster print (24×36 inches).
Here is the story of how we developed the map: The story of an XPLANATiON.
---
Below are the rest of the posters in the series.
Downloadable PDFs like the one above are only available to members of Innolead. If you don't know about Innolead, it's a peer community that connects corporate innovators to share ideas, best practices, benchmark their organizations, and a lot more. Well worth joining. A personal membership costs $495 and they also offer team and enterprise memberships. Learn more about Innolead here, and if you're already a member, you can download the posters here. If you're not ready to take that step, consider subscribing to their email newsletter. It's free and will give you a better sense of what they are doing.
---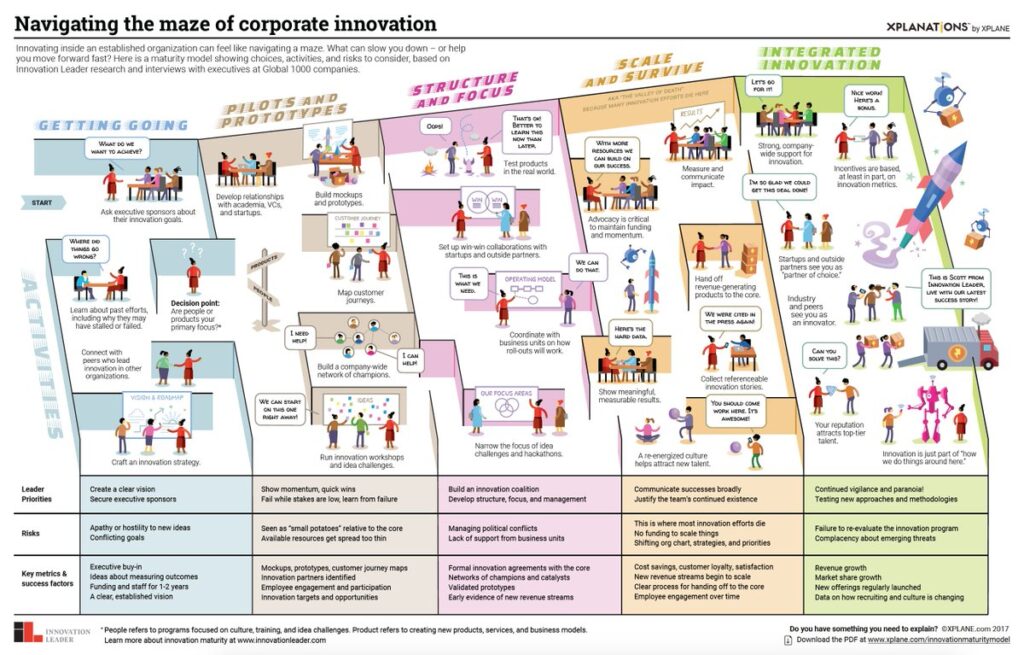 Navigating the maze of corporate innovation is the second XPLANATiON in the series, an organizational maturity model delineating five levels of development for corporate innovation programs, from level 1 (Getting Going) to level 5 (Integrated Innovation). You can use it as a benchmarking tool to assess the current level of innovation in your organization. Buy the quality poster print (24×36 inches).
---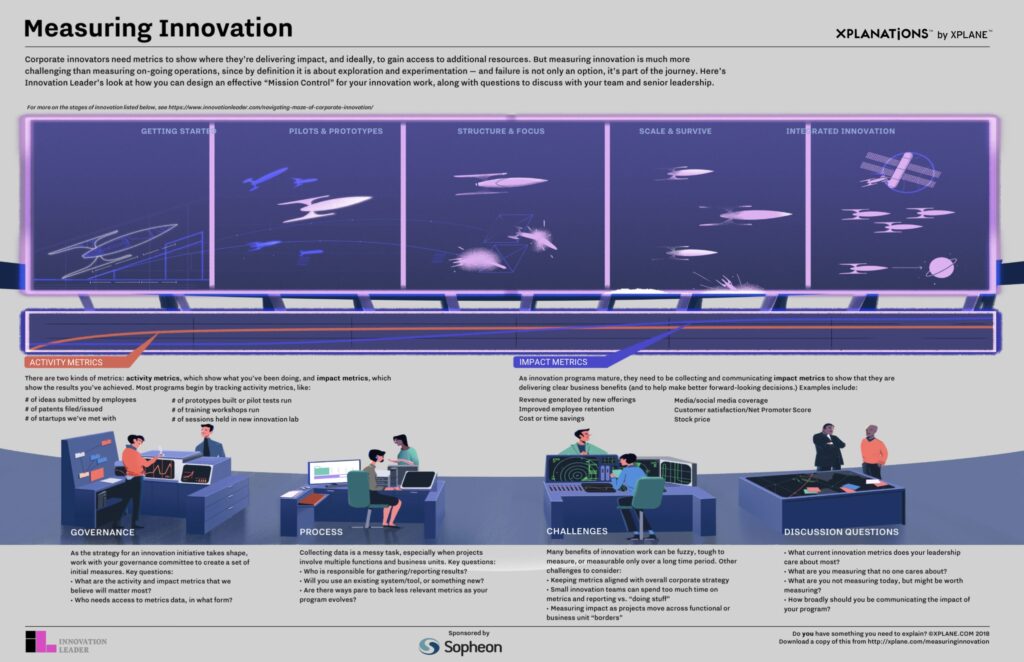 Measuring innovation is the third XPLANATiON in the series, tackling the difficult challenge of how to measure innovation. Includes discussion questions to facilitate conversation at events and workshops. Sponsored by the Sopheon system for innovation management. Buy the quality poster print (12×18 inches).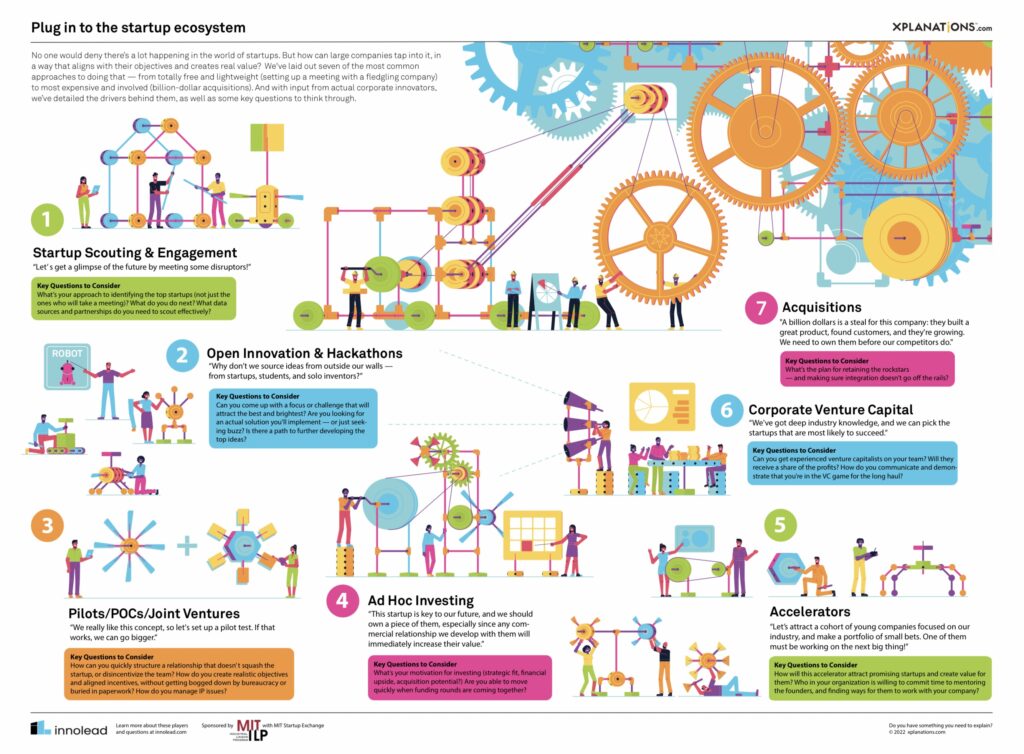 Plug in to the startup ecosystem is the fourth XPLANATiON in the series, adding an additional layer of detail to the corporate innovation ecosystem map and highlighting seven of the most common approaches large companies can use to connect with startups and startup ecosystems. Includes discussion questions to facilitate conversations at workshops and events. Buy the quality poster print (18×24 inches).
Upcoming:
Next up in the series we will be focusing on the strategic landscape of AI and innovation. If you sign up for my email newsletter I'll be sure to let you know when new XPLANATiONS are published.